CertKiller License Program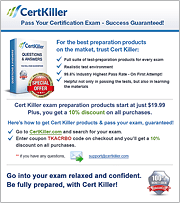 Want to work and earn with CertKiller? This is possible with our license program. This offer might be especially interesting for colleges, universities, training centers, trainers and companies willing to save their money while staying updated with the latest training tools and providing the most efficient training to their staff or students.
There are multiple options of partnering with CertKiller. With us, you can boost your income, promote excellent products, or simply help your company grow by providing them with the latest certifications.
CertKiller does more than just selling exam training materials. We're experts in certification exam preparation, and our trainers will be happy to develop an exam preparation plan for your staff. By helping your staff grow professionally, you make a valuable investment in the future of your business, and CertKiller can help you maximize its potential.
Please fill out your information below and CertKiller License Program Manager will get back to you with best solution according to your requirements:
CertKiller Site Licenses
Training Centers
Colleges and Universities
Businesses and corporations
Any institution with IT training staff
Licensing Features
Exclusive offers and discounts
Unlimited access to CertKiller products
Flexible Testing Engine Access Options
Dedicated Customer Service
Why Choose Certkiller?
1200+ satisfied licensors & counting
100% success guarantee
Solid refund policy
Convenient exam engine
Fast & free updates
License - The Best Way To:
Save tons of money
Have unlimited access to the latest products
Train your staff for long-term success

Need help assistance? Contact us!