100-101 Bundle Printed Edition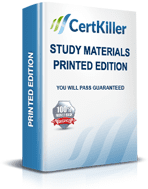 Still prefer paper to computer screen? With CertKiller, you can prepare for your exam with the Printed edition, which you can use no matter where you are! Reduce your screen time but keep learning!
Order 100-101 Bundle Printed Edition and receive FREE shipping WORLDWIDE!
Includes the following Printed Editions of 100-101 exam:
Questions & Answers with Explanations
Simulation Labs
Study Guide
* Printed Edition is an add-on to the main product (100-101 Bundle) and cannot be purchased separately.